Safeguarding the natural world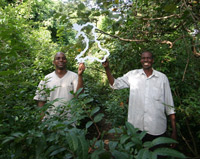 The growing and unsustainable demand by people for natural resources is putting the natural world under severe pressure.

Globally, nearly a quarter of all mammal species and a third of amphibians are threatened with extinction. The rapid destruction of forests not only harms forest-dwelling wildlife but also adds to the growing danger of climate change.

The increasing threat to some of the planet's most important rivers, lakes and wetlands has been matched by a 29% decline in populations of freshwater wildlife in just 30 years. And in the oceans, 40 million tonnes of bycatch including marine mammals, sharks, turtles and seabirds are caught accidentally each year when targeting other species.

The threat to people and their livelihoods is, of course, of equal concern. For example, more than a billion people do not have access to clean water. Some 250 million people worldwide earn their living from fishing, but face an uncertain future due to poorly managed and declining fish stocks.
Around the world, WWF works with a wide range of partners in business, government and local communities to create sustainable solutions that take account of the needs of both people and nature.

Our practical conservation work with our colleagues in the global WWF Network focuses on safeguarding wildlife and places considered by WWF to be of global importance. This is supported by policy initiatives at a UK, EU and global level - creating the commercial and legal frameworks that ensure good governance of natural resources.

Our work in Wales